A very magical addition to the trail…
We were very honoured to be invited to participate in this year's World Horse Welfare Trail.  This sculpture trail highlights the positive stories of the horses helped by the charity World Horse Welfare.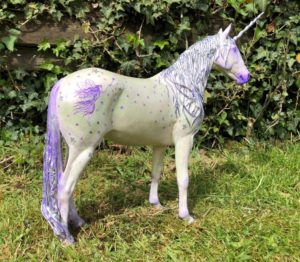 We are given the task to decorate a very special Horse 'Fairy Dust' following on from her name we had no choice but to make our maquette as magical as possible, for us this meant a rather lovely Unicorn!  She made her debut at the Royal Windsor Horse Show and will now go to the Charity's farm to participate in the Maquette Farm Trail.
To celebrate Fairy Dust's debut we have 20% off our Unicorn collection.  Add the code FAIRY DUST at the checkout and keep an eye out for a World Horse Welfare sculpture!